The Whooton Observer is one of Noggin's original series. It is a short-form show that aired during commercial breaks. It is about a curious kid named Franny, who delivers newspapers for the town of Whooton. She wants to grow up to be a zoologist and narrates her paper route like a nature documentary.
The series aired on Noggin from 1999 to 2002. In April 2003, the creators filmed a half-hour pilot episode, hoping to turn it into a long-form show. The pilot was unsuccessful and never aired on TV.
Logline
The show's official summary from Noggin's programming site:
"Franny is a 12-year old girl who lives in the town of Whooton. Every day, she rides around town and delivers the local newspaper, The Whooton Observer. Her paper route takes her on some interesting adventures where she gets to meet and observe some of the not-so-ordinary residents of Whooton." (source)
Characters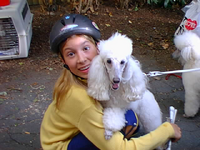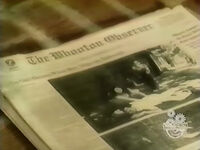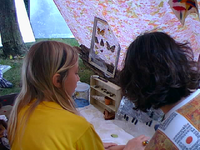 Franny - The main character and narrator. Franny is a newspaper carrier who loves nature. She dreams of going to India to study bugs, monkeys, and everything in between. She lives in a town called Whooton at the end of Snake Hill Road.
Margaret - Franny's best friend and sidekick.
Mr. Crocket - A bad-tempered old man who hates getting the newspaper. He is always mad about something and tends to yell at whoever visits him. He only shows affection for his dog. He wears a red bathrobe and eyeglasses.
Liza and Lily Avery - The identical twin daughters of the Avery family. They are always happy no matter what, and they are constantly complimenting each other for little things. Franny thinks they're very annoying.
Ryan Avery - Franny's crush and the only Avery she likes. He is the oldest child of the Avery family. Compared to his sisters, Ryan acts "human" and has a good sense of humor. According to Franny, he plays tennis "like the gods intended."
Mr. and Mrs. Avery - The parents of the Avery family. Whenever something goes wrong, they act completely unfazed and make big smiles. They are completely oblivious to how much Franny dislikes them.
Episode summaries
The intro sequence starts with Franny introducing herself. She gives herself the nickname "The Whooton Observer," the same name as her newspaper, because she is always observing the strange ways of her town's people.
In the first short, Franny starts her paper route and delivers a paper to Mr. Crocket. She calls him "aggressive and territorial" but admits that he seems human when he is with his beloved dog. Next, Franny's best friend Margaret joins her at the Avery family's house. Franny watches the Avery twins, Liza and Lily, and explains how they're always happy in a weird and inhuman way. Franny also introduces the parents of the Avery family, who never seem to get mad when things go wrong. When Ryan Avery walks by, Franny admits her crush on him, and Margaret gets her to go talk to him. She delivers Ryan's newspaper, and he playfully splashes her with the water hose, making Franny realize that he is goofy and human too.
Gallery
Links