Nogginese was a series of bumpers that aired on Noggin from 1999 to 2002. Each one defines a made-up word related to Noggin. These bumpers were most commonly shown in 1999 when the channel was new.
Format
The Nogginese bumpers are set in front of colorful psychedelic backgrounds, and they are narrated by floating heads. Five different Noggin logos float in and out of the frame: the beaker, beehive, flower, painting palette, and ladybug logos.
Segments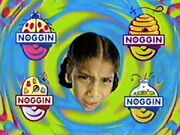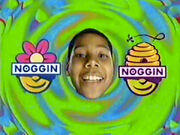 Known segments include:
Noggicize
Noggilicious
Nogginer
Noggining
Transcripts
Opening and ending song:
Nog! Noggin. Noggicize your nogginilly. Nogginers nog nogginly. Noggin! Noggining is noggilicious! The noggin, the noggin, Noggin on non-non-non-non-Nog!
Noggicize:
Noggicizing is, well, it's kind of like exercising your brain. It's when you think so hard and so much about something, you can actually feel your brain squishing and squiggling. Once, I noggicized so much, I sweat.
Noggilicious:
Something noggilicious is something really interesting to you. You know, something you just can't learn enough stuff about, because once you learn a little, you want to know more and more and more! I think dolphins are noggilicious.
Nogginer:
A nogginer is a person -- well, it can be a llama or a sheep -- a nogginer is any living thing that uses their noggin. You know, to think, or fix a problem, or wonder, or dream.
Noggining:
Noggining is noggy stuff that you do with your noggin, like thinking, exploring, wondering, creating, learning, and anything else nogginy.
Online
There was a page for the Nogginese bumpers on Noggin's website, Noggin.com. It featured a game where players could learn different words in Nogginese, then make up their own. There was a poll for visitors to choose which made-up words fit certain definitions. The page included some exclusive words that never appeared in the on-air bumpers, like "nognoxious" and "nogazod." An archive of the page can be found here. The list of user-submitted Nogginese words can be found here.
Gallery
Videos